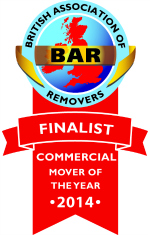 Pluscrates were once again the proud sponsors of the British Association of Removers CMOTY competition.
Entrants from the trade associations specialist membership group – The Commercial Movers Group (CMG) – gathered at the associations annual conference in Glasgow on FA and SFA Cup Final Day to hear the winners announced and for only the second time in the industry's long history the award was made jointly to two companies who had tied on exactly the same scores – JT&Sons and Harrow Green Removals.
Both businesses have been past winners – JT&S retaining the award from 2013 – and the announcement made for double celebrations all round.
Pluscrates MD, John Mitchell, says 'we support businesses which have had to be tough and resilient to successfully trade in an industry which has been particularly hard hit by a lengthy recession. As we are moving back into a period of growth a double celebration such as this, applauded and recognised all of those businesses which competed for the award is great to see and be a part of. We're already looking forward to next years event in the great city of Belfast'.