Removals & Storage magazine
Check out Pluscrates online shop article in this month's R&S magazine.
Online shopping
Online shopping has become a part of daily life. If you need something next day but don't have time to pop to the specific shop which sells it? Order it on online. Don't have time to do a big food shop? Order your grocery shopping online for delivery direct to your door/fridge.
With the likes of
Amazon
taking over the retail market. Other retailers are thus having to offer competitive and
user-friendly
 shopping experiences online. Consumers are growing to expect a higher quality of online services than ever before. The rental market is no different. Embracing this changing environment is essential to the survival of many SME's today. Including those in the removals and storage industry.
71% of shoppers believe they will get a better deal online than in store
80% of the online population has purchased something using the internet, 50% of the online population have purchased more than once
[source]
Many SME's do not see the point in spending capital on their online experience. instead choosing to invest in other, much more obvious forms of growth. But by not giving the necessary attention to their online presence and shopping experience; they are overlooking a massive potential revenue stream. As well as an extensive untapped market of potential new customers.
Customer opinions
Recently, we ran a customer survey.
Overwhelmingly
, the online experience was something which our customers highlighted as an area we could improve
.
For the past year, we have been working with our web designer and our IT company to look at what we can offer in the way of a better online experience
.
Step one of this is our improved online shopping experience for end users, which
was rolled
out in early October
.
The new online shop offers a significant improvement on our previous system which we hope will provide a seamless option for the end user
.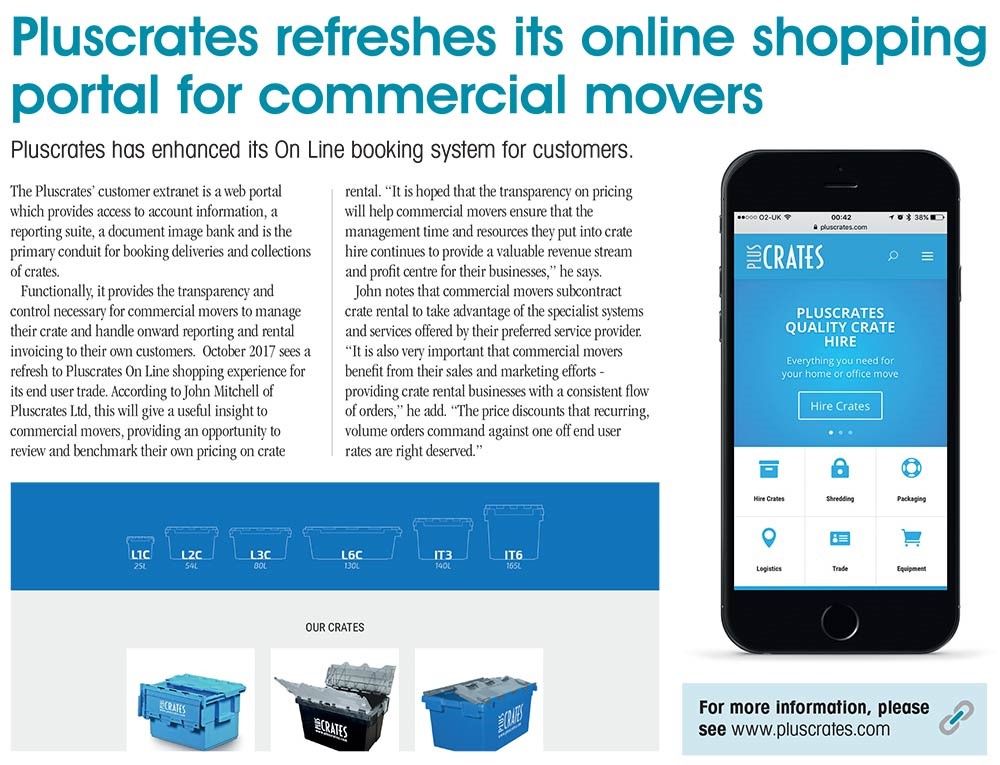 Screenshot of October Removals and Storage article
The next stage of this will be to update the
Pluscrates customer extranet.
In the coming months, we will be beta testing an online ordering option for existing customers
. We are also working with our IT company to bring an online ordering system that is both intuitive and easy to use.
Pluscrates
is committed
to offering the best levels of service to all our customers, regardless of the method in which we interact
. Our online presence and the experience we offer our clients is important to us.
It is of the utmost importance to us that we provide a seamless ordering experience whether you pick up the phone, the mouse or the keyboard
.
Check out the online shopping experience for yourself:
Or, for more information regarding up and coming projects, drop us a line info@pluscrates.com or give us a call 0208 900 0321 to discuss with one of our experienced office staff.