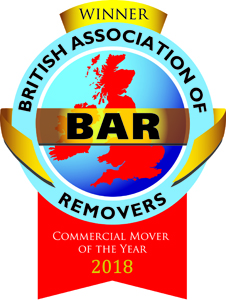 Get Ready For CMOTY – Commercial Mover of the Year 2018
Commercial Mover of the Year 2018
It's that time of year again, and the CMoTY (Commercial Mover of The Year) is right around the corner! Pluscrates are proud to be sponsoring the event for the 6th consecutive year in a row. The CMoTY and the BAR (
British Association of Removers
) have long been the hallmark of the greatness in the commercial relocations and removals sectors, and we think that it is a fantastic opportunity to highlight excellence in the removals industry at large. We understand that sometimes excellence, hard work and going above and beyond what is the standard can be overlooked and often unrewarded, which is why we think the CMotY awards are so vital. It is also something close to Pluscrates heart, as excellence and quality in the industry was our founding mantra. It is particularly special for us to be the sole sponsor CMotY in 2018, a year that holds particular importance for us as it is our 10th birthday!
The Importance of Recognition
In the recent issue of R&S (Removals & Storage) magazine, there is an article with an interview from Sarah Cole, managing director at UCR (Universal Commercial Relocation) – last years CMotY winners. In the article, Sarah looks back at the previous six months and the impact that winning has had on her company. She states that the highly competitive landscape of the commercial moving market means that having unique selling points – such as CMotY winner – is a definite plus point when winner new customers.
"The London commercial moving market is highly competitive so winning the award again has certainly helped us in continuing to raise our profile and is a strong selling point when trying to stand out from the crowd." – Sarah Cole
As you are probably well aware, it is becoming more and more vital to use every means of marketing available to you in the ever-changing, and ever more competitive industry, the CMOTY is a great way to stand out, where even being shortlisted is a selling point and achievement.
"In an ever more challenging and competitive industry, where evert marketing advantage needs to be seized upon, participation in the award process and the tangible rewards it delivers makes more sense than ever. Past winners, finalists and recipients of the certificates of merit all whole heartedly endorse the value and it's for that reason we are delighted to be associated with it." John Mitchell, Managing Director, Pluscrates
"We will certainly be applying again for CMOTY 2018!" – Sarah Cole, Managing Director, Universal Commercial Moves (2017 Winner)
"The London commercial moving market is highly competitive so winning the award again has certainly helped us in continuing to raise our profile and is a strong selling point when trying to stand out from the crowd"