Pluscrates celebrates it's first decade in business.
Launched in 2008, crate rental service provider Pluscrates celebrate a double-digit birthday after successfully completing their first decade of trading – probably the toughest decade since the industry's birth in 1970.
'We began trading just ahead of the global banking crisis, secured our corporate finance with RBS just ahead of its collapse and our first delivery of crates was into the offices of Lehman Brothers – it was a tough start' says Neil McGuigan, Group Managing Director.
Within a year, of inception co-founders, Neil McGuigan and John Mitchell had joined forces with Northern Crates – the Manchester-based crate rental business founded by Nick and Claire Flaxman – and opened service centres in London, Birmingham and Livingston in Scotland. A Bristol service centre and satellite depots in SE London and Newcastle would quickly follow.
Reflecting on the company's journey since 2008 John Mitchell paid tribute to the long-serving senior management team responsible for most of the hard work; Stuart McLean, regional manager Scotland, Craig English in the North West, Ian Gilkes in the Midlands and Stuart Stansfield, National Operations Manager, Roy Bunker in London and Paula O'Shea, Business Administration Manager.
Over the years we have had some very loyal members of staff who have been with us since the early days; Katie Bryant, Martin Kent, Garry Black (sadly no longer with us), Paul Keough, Michael Whittaker, Robert Sutton, Helen to name a few; it is with the help of these dedicated members of staff that Pluscrates has been able to weather the storm of the recession and have a successful first ten years in business.
–
John also underlined the management lineage that extends almost 50 years – back to the industry's birth and the launch of Rentacrate – the first ever crate rental business, founded by Neil's parents Gordon and Doris McGuigan. Neil's entry to the market came in 1985 with the launch of Eurocrate and it was in September 1987 that John Mitchell joined Neil in that business.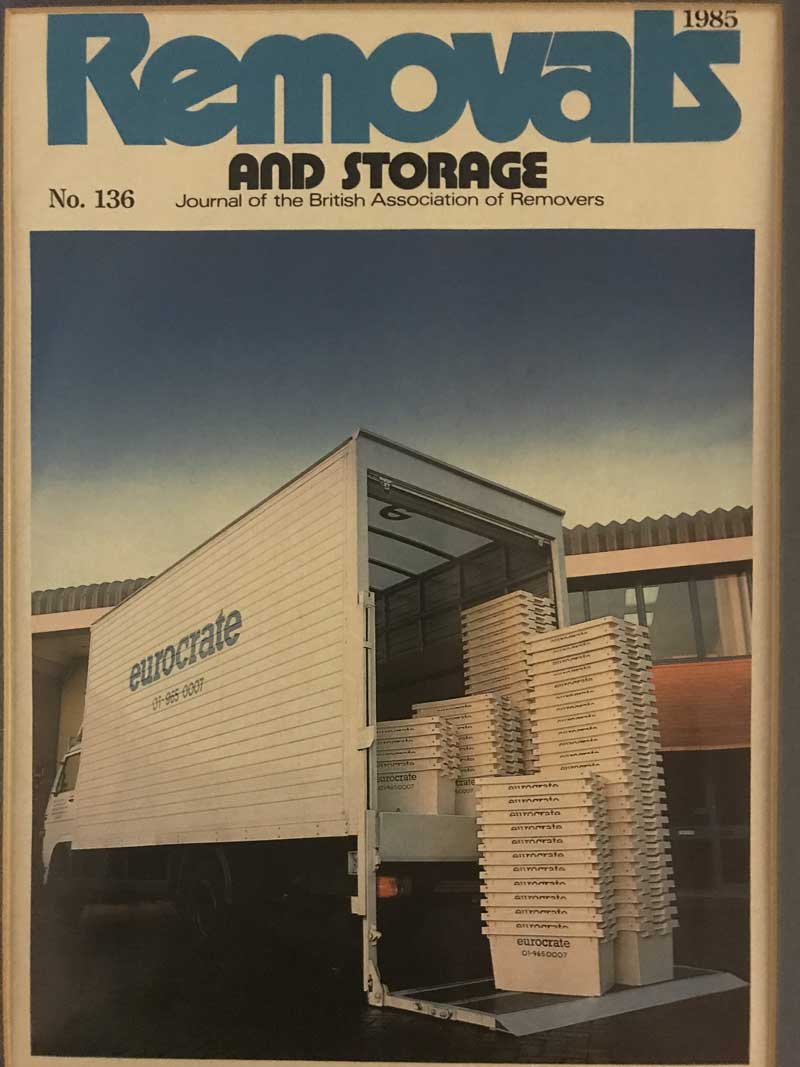 Then and now
So how has the industry changed over the last 3 decades? 'So much yet so little' comments John Mitchell. 'The size of the UK crate rental market is less than half the size it once was. 30 years ago, there were no IT crates, there were no desktop computers and we were all shuffling much more paper than we do today. The commercial relocation industry needed a host of National crate rental service providers to keep it supplied with crates – Rentacrate, Eurocrate, GB Crate Hire, Nationwide Crate hire, Teacrate and countless regional suppliers Now there are just two. Thirty years ago, the trade rental rate for a standard A3 crate was 22p per crate per week. Lids were charged separately at 10p per lid per week – 32p for a lidded crate – astonishingly that's barely changed at all whereas my £6.00 gallon of petrol would have cost me just £1.72 in 1987. Back then, we would have gasped in disbelief had we been told that we'd soon be deserting our posh new out of town retail parks, saying goodbye to Woolworths, Dixons, Comet, MFI and BHS. That Homebase and House of Frazer would be teetering on the brink. Who amongst us could have comprehended the scale and reach of the World Wide Web or imagined the very concept of social media? Watney's have moved out of pubs and into coffee shops and hotels, the smartphones in our pockets would have been the stuff of far-fetched science fiction.  Driverless trucks, satellite navigation, the global explosion of 'body art', the extinction of VCR's, CD's, Saab gone, Rover gone, Lehman Bros, Merrill Lynch and Bear Stearn all gone.
Put your mind to it for a moment and the changes are everywhere though, on balance, I think they've been positive and there are some great success stories. Jaguar Land Rover makes excellent motorcars, the factories at Norton and Triumph are turning out desirable motorcycles which neither breakdown nor leak oil. We've seen a Brit win Wimbledon, we've seen a black American rise to the office of President, we've seen the fall of the Berlin wall and an end to the cold war arms race and the UK on the brink of leaving the EU. Even during our first decade at Pluscrates we've seen the arrival of the iPhone and iPad and we're rather proud that we managed to successfully launch our business during one of the longest and deepest global recessions in history. Microsoft, FedEx, General Electric, IBM, Disney and Hewlett Packard all launched during the recession. As a recession beater, I think we're in rather good company and we will continue to adapt to meet the requirements of our customers over the next ten years'.
–
Pluscrates Ltd – the crate rental business, Advanced Crates Ltd – the crate manufacturing business are both wholly owned subsidiaries of The Rental Group (London) Ltd.