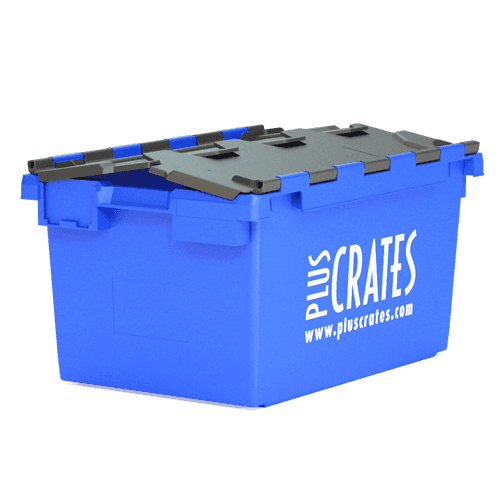 Pluscrates Quality Crate Hire
Everything you need for your home or office move
Pluscrates Quality Crate Hire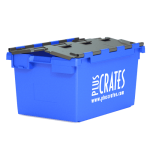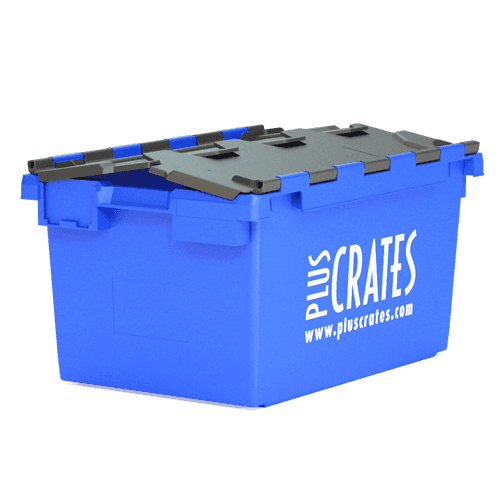 Timed Deliveries Available
Timed Deliveries Available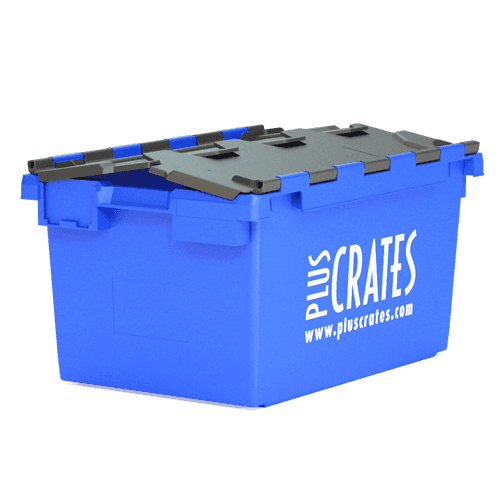 UK Crate Hire/Rental for Moving Home, Office and Retail in London & the UK
Pluscrates has been a leading name in UK crate hire for over 15 years. In 2023 the Pluscrates brand was bought by The Hill Company to continue providing excellence and experience in the crate rental market. We offer a range of high-quality products for both the domestic and commercial markets – so if you need to hire crates for moving houses, offices, or entire buildings, we can help.
We supply plastic moving crates, manual handling equipment and packaging supplies, such as bubble-wrap, security seals, sack trucks and more from one of our national crate hire depots direct to our customers. We pride ourselves on our excellent service - so if you need to rent a crate, you should rent a crate from us!
Quality Crate Hire Services. Affordably Priced.
Outstanding Service
Our skilled office staff are on hand to help when you need it. For larger accounts, you will have a dedicated account manager assigned.
Our knowledgeable, experienced staff understand crate hire and can help your business. Isn't that refreshing?

Quality Crate Hire. Affordable.
Though we pride ourselves on our premium service and quality crate hire, we also offer competitive rates usually reserved for trade customers. Many removal companies also experience an overall reduction in costs due to fewer issues, problems, and headaches.
Trade Account
Did you know you can save money with a trade account? Why not contact us today and start benefiting from trade discounted rates?
Find out why Pluscrates is the chosen crate hire supplier to so many commercial removal companies in the UK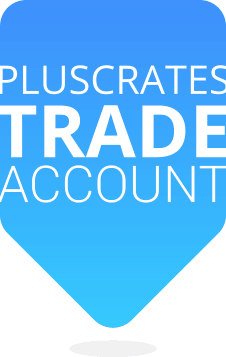 Full Nationwide Coverage
Our UK service centres allow us to supply removal companies across the UK. We also hire plastic moving boxes directly to end-users for domestic house moves when they want to make the most of our low prices.
Crate Hire. Made for London & UK.
We pride ourselves on offering a premium service to our customers, but it's more affordable than you might expect. We offer a wide range of plastic moving crates to make your house move, office move, relocation or removal as simple and cost-effective as possible. Our products range from personal LC1 to the LMC metre-long crate that can be used for entire metre-long bookshelves found in libraries and schools and IT-specific crates such as the IT3 and IT6 computer crates. Though by far the most popular crate hired in the commercial relocation industry for home or office moves are the LC3 "standard crate" or the LC2, the narrower size makes it ideal for carrying up and down stairs.
We also have a wide selection of manual handle equipment and crate hire accessories, such as the secure roll cage, sack barrow and non-slip skate. All are designed to make your move as simple as possible.
If you would like further information on our crate hire solutions for commercial relocation, facilities management or retail and distribution, there is more information on the relevant pages. For small personal moves such as home moves or one-off small business moves, please feel free to hire crates from our online store, as you will ensure you get the best rates for small moves. If you are a trade customer looking to use us regularly, please call us so we can set up a business account.
Crate Hire Depots
We have services centres across the UK, and a fleet of vehicles to deliver and collect your crates.
England
We deliver to all cities in England, and you can also collect your hire crates and accessories from any of our national service centres.
Our coverage includes English cities: Bath, Birmingham, Bradford, Brighton and Hove, Bristol, Cambridge, Canterbury, Carlisle, Chester, Chichester, Coventry, Derby, Durham, Ely, Exeter, Gloucester, Hereford, Kingston upon Hull, Lancaster, Leeds, Leicester, Lichfield, Lincoln, Liverpool, City of London, Manchester, Newcastle upon Tyne, Norwich, Nottingham, Oxford, Peterborough, Plymouth, Portsmouth, Preston, Ripon, Salford, Salisbury, Sheffield, Southampton, St Albans, Stoke-on-Trent, Sunderland, Truro, Wakefield, Wells, Westminster, Winchester, Wolverhampton, Worcester, York.
Scotland
Our coverage includes Scottish cities: Aberdeen, Dundee, Edinburgh, Glasgow, Inverness, Stirling
Wales
Our coverage includes Welsh cities: Bangor, Cardiff, Newport, St Davids, Swansea
Personal 25L Lidded Moving Crate – LC1
The LC1 lidded crate is the smallest crate Pluscrates supply and is often referred to as a 'locker crate', ideal for moving personal belongings safely and securely; commonly used in the relocation of hot desking environments. The L1C hire crate is a heavy-duty plastic crate featuring integrated lifting handles and interlocking lids. They are designed to store or move items that are A4 or smaller in size. e.g. paper, brochures, and magazines.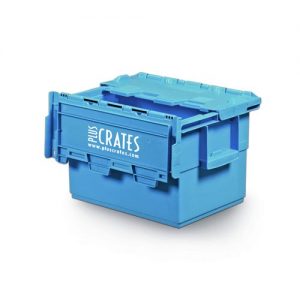 Medium 64L Lidded Moving Crate – LC2
The LC2 is slightly smaller than the "standard lidded crate" (the LC3). Our medium LC2 crate or "stair crate" is a compact lidded moving container perfect for easier handling on stairs. This is one of the most popular moving crates for home moves, especially with many stairs. The LC2 hire crate is a heavy-duty plastic crate featuring integrated lifting handles and an interlocking lid. They are designed to store or move items safely and securely while also being narrow enough to use easily on stairs.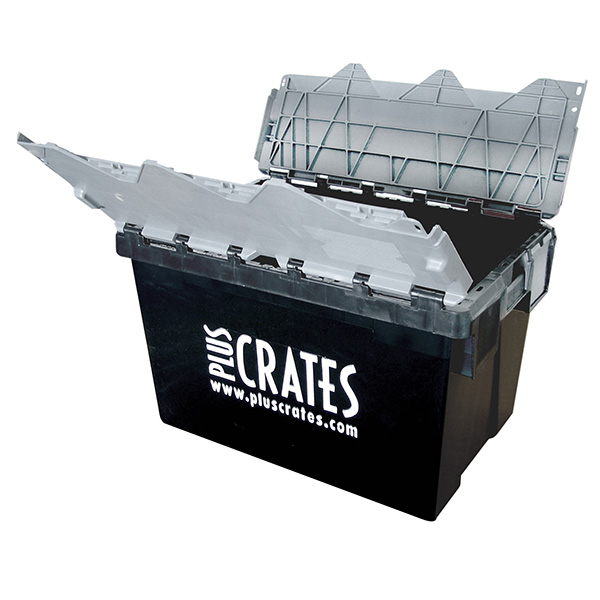 80L Standard Lidded Removal Crate – LC3
The 'standard' lidded office removal crate is the standard in the commercial removals industry. It is designed to nest and is stackable with lids in the closed position. Designed to work with the A3 crate and retain complete compatibility with the relocation industry's standard specifications in size and strength. The LC3 is also widely used in retail distribution and automotive logistics. When someone asks for removal crates, this is what they mean – the industry standard.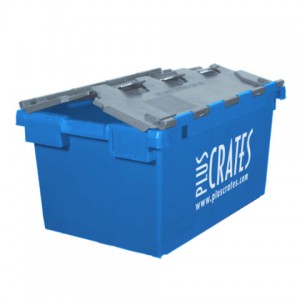 Metre Long Lidded Moving Crate 130L – LMC
The L6C lidded crate is designed to accept 1-metre-long items, which is especially good for library moves with metre-long shelves or filing. The L6C removal crate is designed to nest and is stackable with lids in the closed position. They are extensively used in the sequential movement of hanging 1-metre lateral filing systems and the complete contents of 1-metre library shelves.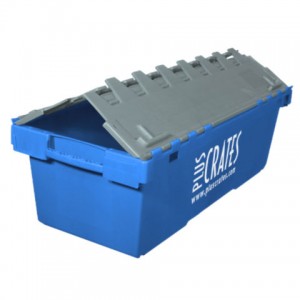 The IT Computer Moving Crate 140L – IT3
The IT3 computer crate nests and is stackable with lids in the closed position. Specifically designed for the safe transit of individual flat-screen desktop PC systems, the IT3 computer crate is widely used in commercial relocation with specialist use in lean production.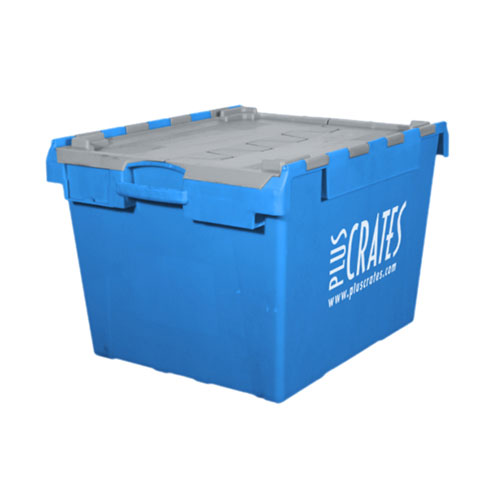 The IT Computer Moving Crate 165L – IT6
The IT6 computer crate nests and is stackable with lids in the closed position. Originally designed for the safe transit of individual large monitor desktop PC systems the IT6 continues to be widely used in commercial relocation for both large desktop computers as well as servers and computer workstations.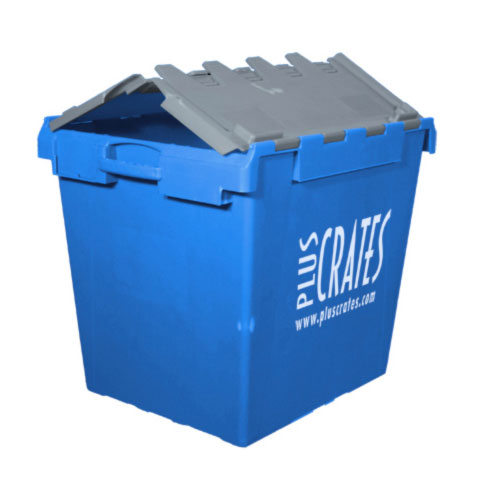 Hire Manual Handling Equipment and Buy Packaging
As a leading crate hire company in the UK, Pluscrates makes it easy to hire plastic removal crates online, but we also supply everything you'll need to make your office move, or home move as simple as it can be.
Our range of removal packaging includes our new eco bubble-wrap that is fully biodegradable, our range of screen protectors the SPR and XLSPR, anti-static bubble wrap, keyboard bags and more. Our packaging is designed to protect your items during a move. We provide affordable solutions for moving or relocating offices, businesses, and homes.
We also provide an extensive range of manual handling equipment to make moving crates and other items easier. We hire roll cages, sack barrows, non-slip skates, and library trolleys.
Our non-slip skates are widely used not just for moving crates, but also for moving office furniture, and other large items.
Hire Roll Cages
The Security roll cage is a sturdy metal roll cage with a single internal shelf providing two loading surfaces. It has a variety of uses, including storing and moving crates when full.
The cage has a roof and is fully lockable, which means that the contents can be securely stored.
While the roll cage is commonly used in retail and distribution it is hugely popular in the relocation and mover industry with its robust metal construction and easy manoeuvrability even when fully loaded. It also features a lid that is lockable (with security seals or padlocks etc.) so that contents can be stored securely – a must when moving important and sensitive items. Popular in IT and office moves for servers.
Our heavy-duty roll cage hire is available on a weekly rental basis and is available for as long as you require.
The roll cage is often used to move and relocate valuable items such as IT equipment, servers, and computers by professional removals companies and with the fully lockable roof and door can be used in the most sensitive of moves.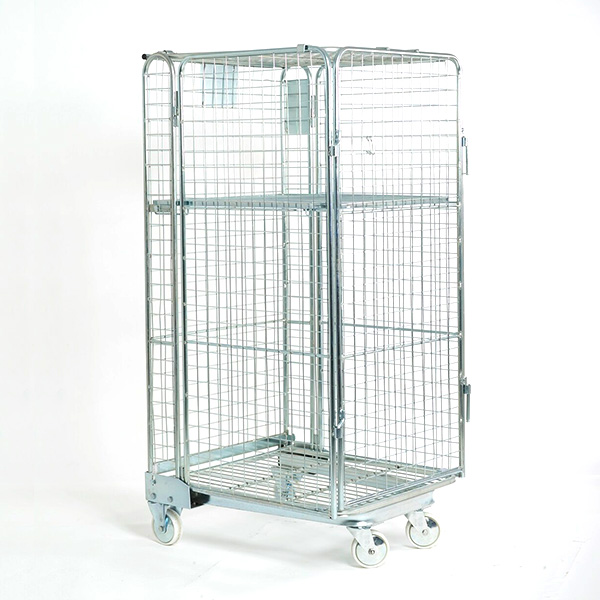 Hire Sack Barrows
Our heavy-duty, metal, sack barrow/sack truck is a simple yet strong and robust product, ideal for making your life easier when moving multiple plastic moving boxes at once.
The high back, allows for large loads, or multiple crates to be carried at once. The large heavy-duty wheels help manoeuvrability over most terrains.
The strong metal frame makes this an extremely robust, durable and reliable truck, suitable for long periods of use.
This sack barrow features ergonomic, rubber handles for secure grip, which makes moving heavy loads easier and more comfortable.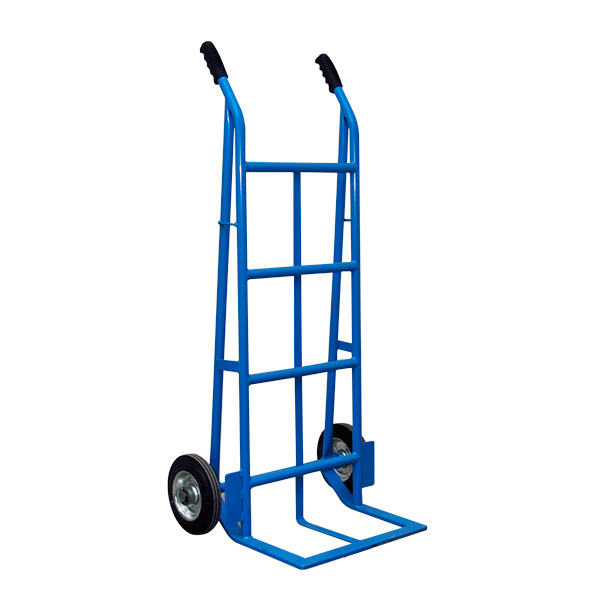 Hire Non-slip Skates & Dollys
Our rubber topped skate is the ideal choice for moving crates around the office. The rubber top makes it non-slip, and the rubber casters are designed to keep floors safe from harm.
Our skates are not just good for moving crates, they are also fantastic for the safe movement of desks and other furniture. Many removals companies combine skates to move larger items easily.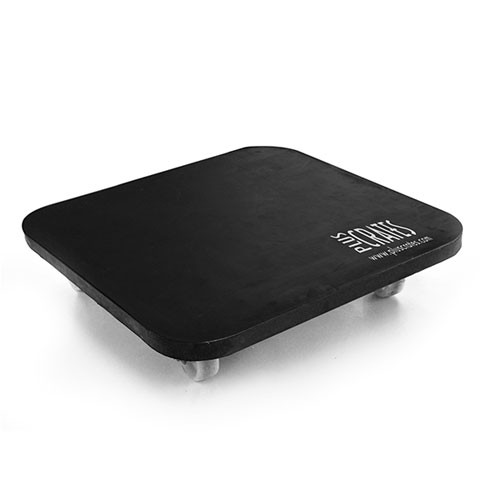 Crate Rental Accessories
Besides our hiring crates and equipment to move them, we also provide accessories and additional products such as security seals, labels, and more. View the full range of accessories on our crate hire shop.
Computer screen protectors
Screen Protectors are designed for the safe moving, packing, and transport of computer monitors/screens.
We supply both medium and large screen protectors, the SPR  and the XLSPR which is designed to protect flat screen monitors up to 32″. Pluscrates quilted SPR's feature velcro straps for quick and easy secure covering and sewn in synthetic fiberboard inserts for added protection.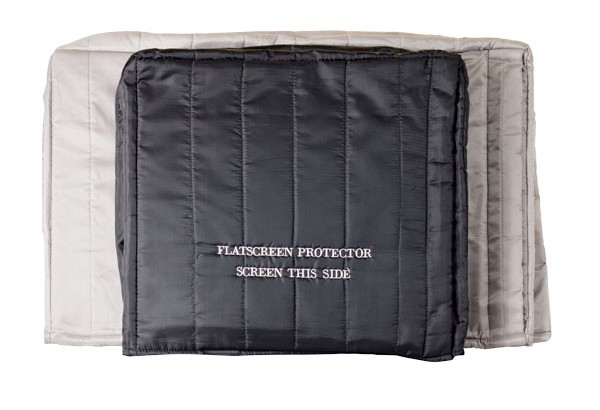 Bubble Wrap Bags
This is a bubblewrap bag made of high-quality anti-static bubble wrap. Antistatic protective packaging is necessary for items or devices that are static-sensitive (ESD) such as computer processors, servers and other IT equipment. If you handle office moves on a regular basis then you will be well aware of the importance of protecting fragile computer components such as RAM, HDD (Hard Disk Drive) and SSD's (Solid State Drives) from any static electricity.
Labels
Furniture and moving crate labels. Low tack and available in different colours for easy cataloguing and logistics.
Nationwide Delivery of Packing Crates and Removal Packaging
Pluscrates has the best next day nationwide delivery service in the industry, and we offer it as standard for deliveries placed before 3 pm Monday – Friday. So when you are tackling a home move or a commercial relocation of an office, you can rent a crate from us, and be certain that you will receive your products on the day you need them.
You can simply select the most convenient date of delivery when ordering your crates online. Simply select your products through our online shop, or give our experienced team a call on the phone.
We also offer a porterage service as standard, that can deliver crates to a specific office or floor of the building. Please get in touch if you have specific requirements. And yes, we have delivered to the BBC, The Houses of Parliament, schools, universities, and airports; so you're in safe hands. Our UK depots supply 100% of the UK with quality crate hire.
Crate Hire London
Pluscrates crate hire supplies the whole of the UK, but special consideration is needed in our biggest cities including London. We are the London crate hire experts, not only because we are used to making daily deliveries in the capital, or because our fleet is ULEZ compliant, or because we offer next day delivery as standard, but because of our experience.
Our fleet of vehicles operating from out London service centre in Essex are all ULEZ (Ultra Low Emission Zone) compliant, so we can deliver your products within the ULEZ (Ultra Low Emission Zone) without issue.
We deliver to Central London, West London, East London and South London which includes the London boroughs; Barking and Dagenham, Barnet, Bexley, Brent, Bromley, Camden, City of London, City of Westminster, Croydon, Ealing, Enfield, Greenwich, Hackney, Hammersmith and Fulham, Haringey, Harrow, Havering, Hillingdon, Hounslow, Islington, Kensington and Chelsea, Kingston-Upon-Thames, Lambeth, Lewisham, Merton, Newham, Redbridge, Richmond-upon-Thames, Southwark, Sutton, Tower Hamlets, Waltham Forest, Wandsworth.
Not only do we deliver to London, but we deliver crates to the floor/office that they are needed, not just to the door or loading bay. Just make sure you tell us where they are needed when you place the order.
Crate Rental Service Centre Locations
Pluscrates have national crate rental depots situated across the UK that supply our sturdy removal crates to the whole of England, Scotland and Wales.
In order to give you the best crate hire services possible, we also offer customer collection and return to our depots if you don't want to pay for delivery/collection charges.
You can simply select the depot that you would like to collect your rental crates by selecting 'collection from service centre' and then selecting your desired depot during checkout.
Our opening hours are:
Monday – Friday 8:30 am – 5.30 pm
(please note our depots are closed on weekends). You can find your nearest depot here.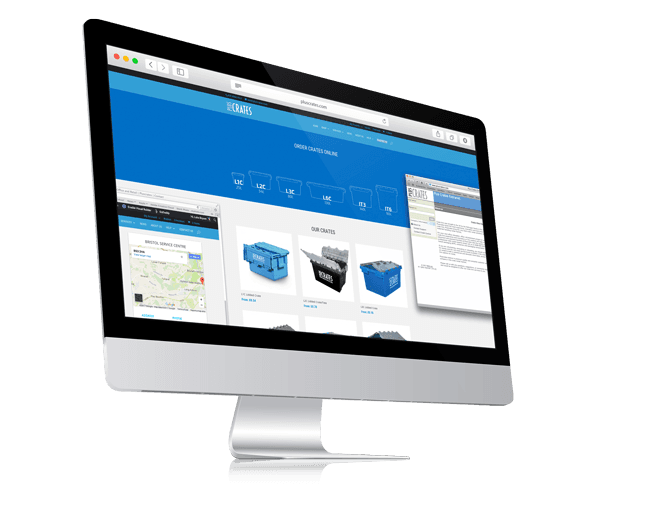 Phone, online or email. Since 2008 we have been offering the best way to order our products. Choice.