Protected inset area for a permanent linear or 2D matrix label
Textured areas on the lids and front profiles for temporary self adhesive labels
Flush lid nesting for minimal storage footprint
Stackable for stability in storage or transit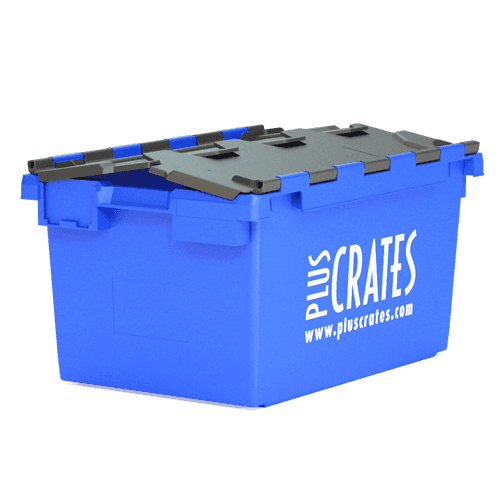 Crate Hire for Trade and Professional Services
Pluscrates was launched in 2008 to meet the demand for a premium crate hire company, and since 2010 we have been the largest independent crate hire company in the UK providing nationwide service from 5 regional service centres in Scotland, Manchester, Birmingham, London, and Bristol. Pluscrates operates its own fleet of fully liveried, LEZ compliant vehicles which we use to deliver crates nationally on a daily basis.
Many the top commercial relocation companies in the UK rely on us every day to fulfil their crate hire requirements.
If you don't use crates for your professional moves, you have to ask yourself why? Crates are used by all top commercial removal companies in the UK. They're strong, robust, stackable and far more secure than cardboard. They are weather-proof, so the odd British drizzle doesn't scare them. Perhaps most importantly, they are clean! Washed in between each use, so you know they are safe to store what you need them to.
Outstanding service
We offer the finest customer service experience at every level; from the initial request for crates all the way through to our physical contact with your customer at the point of delivery or collection – the moment of truth.


Quality at Every Level
Our trained, permanent, full-time drivers and porters are the most experienced in the business, some having been with us since our inception and others with lengthy previous experience in commercial relocation. Uniformed and operating from our own custom built and liveried vehicle fleet the quality of our crews are key in differentiating the quality of our service compared to our competitors.
Experience
Pluscrates directors John Mitchell, Neil McGuigan, and Nick Flaxman, boast a combined 78 years' experience in the crate hire industry and provide incisive, hands-on support to the management team responsible for the day to day running of the business nationally.


Moving Moving Forward
Our younger, forward thinking team are continually bringing new ideas, products, and services to our business, adding modern technologies and concepts to our proven services. We are moving the moving industry forward.
Customer Service the Right Way
Beyond your customers' service experience on-site, the Pluscrates admin team are always there to assist you and provide the help and support you need to manage the crates you have on hire from us.

Find Out More
If you would like more information on any of our products, services,  or trade account benefits, don't hesitate to get in touch.