Hire: 56p ex VAT per week
| | |
| --- | --- |
| External Dimensions | L: 710 x W: 460 x H: 368mm |
| Litres | 80 |
| Weight | 4.3kg |
The 80 Litre standard lidded office removal crate nests and is stackable with lids in the closed position. Designed to work with the A3 crate and retain complete compatibility with the relocation industry's standard specifications in size and strength. The LC3 is also widely used in retail distribution and automotive logistics, with an 80L crate proving to be the perfect size for many applications.
Product Details
As standard, this Advanced Crate Ltd product has:
Built in label holder
Protected inset area for a permanent linear or 2D matrix label
Textured areas on the lids and front profiles for temporary self-adhesive labels
Protected RFID tag slot
Option of manufacture with or without drainage holes
Option of manufacture with hot foil marking on both long sides
Flush lid nesting for minimal storage footprint.
For size specifications, click the 'additional information' tab.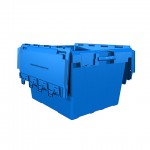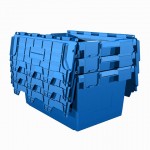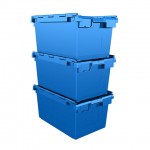 The Standard Crate
Since the introduction of plastic crates that helped the commercial relocation industry move quicker and more easily, the 80 Litre crate has been the standard. It was first introduced for a particular task in office moves; to move the content of filing cabinets easily. One draw = one crate. But since then, the 80L crate has been used for just about everything because it is a great size and very versatile. Their robust and heavy-duty construction means they are perfect for transporting a delicate item during a move or storage in a garage where cardboard boxes might get damp and absorb water.
A Crate by any other name...
Not everyone calls them crates, and though they are wrong, we don't blame them 😉 For example, in many retail environments, including WH Smith, Screwfix and more, and the humble crate is often called a tote, tote box, or plastic tote. Usually, the name tote is given to a crate with no lid, but even when they have lids, a crate is a tote in retail.
In other areas, you'll find a crate referred to simply as a plastic moving box or storage box, and an 80 Litre crate, simply an 80 Litre Plastic moving box. It's a bit generic if you ask us, but to each their own, right?
Plastic Storage Boxes
Our crates are sometimes referred to as storage boxes. They are great for long or short-term storage. Their sturdy waterproof plastic makes an excellent protective shield against moisture and damage.
NB. If you require long-term storage options, make sure you contact us for the best possible prices. Make sure you include all relevant information, including delivery location and how long you would like to hire them.
80 Litre Moving Boxes
The 80 Litre moving box has become the standard for office and commercial moves and is popular for domestic moves. The size and price of the crate make it a great option for professional movers. However, we often suggest a slightly smaller 64 Litre crate if you are moving by yourself.
NB. Please make sure you have checked the product dimensions, and maybe measure the width of your doors.
Additional information
Dimensions
710 × 460 × 368 cm
Volume

80L

Dimensions (External)

@ Top: L: 710 x W: 460 x H: 368mm
@ Base: L: 600 x W: 380 x H: 350mm

Dimensions (Internal)

@ Top: L: 635 x W: 415 x H: 340mm
@ Base: L: 595 x W: 370 x H: 340mm