For many years, removal companies have used Screen Protectors to protect the screens of computers during IT moves. The standard Screen protector is H 43.5cm x L 46cm x D 17cm
With larger iMac's more commonly used in business and multi-screen workstations being replaced by large, multi-window, single screen the need has arisen for a larger alternative.
Our clients spoke, we listened and we are now delighted to offer our new XLSPR (Extra large Flat screen protector). The latest addition to our product portfolio.
With the space to hold a screen up to 32" (including outside edge) our new SPR (Flatscreen Protector) is made in the same way and with the same classic design features of the traditional SPR but with the added bonus of an extra couple of inches.
Special features
Fibreboard inserts to provide added protection
Velcro straps to keep the SPR in place during transit and to provide easy access
Quilted design to protect from knocks, dust, and spills
Waterproof outer layer made from high-quality polyester
Thick high quality felt inside layer to help protect screen
Dacron filler sandwiched between inner and outer layer to add protection
---
The new extra large SPR comes in at H 45cm L 79cm x D 19cm which provides plenty of extra space for the larger screens.
These products have been designed and made specifically for Pluscrates and we have worked closely with our clients to get the specifications tailored to the needs of the removals industry.
These extra large screen protectors are available to rent through our website www.pluscrates.com/shop/xlspr/ or by simply quoting XLSPR on your standard order form.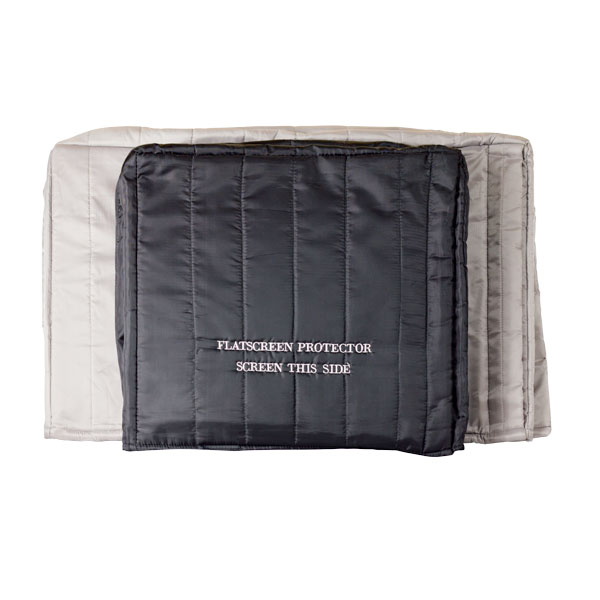 Image: XLSPR with standard SPR for size comparison